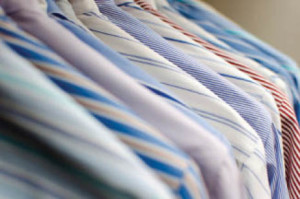 Dry Cleaning and Shirt Laundry

Steiningers Cleaners Dry Cleaning and Shirt Laundry offers a Professional Dry Cleaning and Shirt Laundry Service. We will help you with all aspects of your wardrobe. Suits, Dress Shirts, Dresses, you name it. Our staff is here to help you.
Dress Shirt Laundry Service
With an eye for detail and demanding standards, every dress shirt we launder is the best it can be. You'll appreciate our wrinkle-free precision and fine finish. Our shirts approach perfection.
We'll ask for your starch preferences – your shirts will come back clean, pressed, and hung on hangers. You'll lose little time getting out the door and looking great!
Wash & Fold Laundry Service
We can help with all of your laundry.  Bring us your laundry and we will take care of rest.