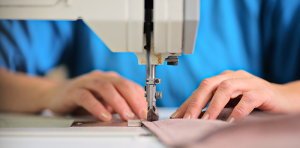 Repairs and Alterations. Don't settle for an ill-fitting or damaged garment. If it is too big or too small, torn or frayed, bring it to us. Whether it's a slight adjustment or a major repair, our tailor can help. Our top-quality equipment and materials and decades of combined experience allow Steiningers Laundry and Dry Cleaning to make it right for you every time.
Types of alterations and repairs that we provide include:
Hemming of dresses, skirts and pants
Letting out and taking in of dresses, skirts and pants
Replacing buttons, fasteners and zippers
Repairing fabric tears
Patching jacket elbows
Repairing and altering leather jackets and pants
Repairing quilts
For help with any alteration or repair, simply bring the garment.