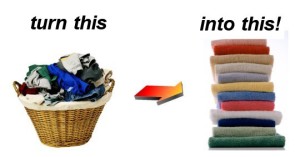 Wash and Fold Laundry by Steiningers Cleaners.
Our Wash and Fold Laundry is just like going to the laundromat, except we do all the work for you.
First your clothes are sorted and colors are separated from whites. Then we wash and dry your clothes in separate machines for each customer, according to the preferences that you setup on our website. Next, your clothes are neatly folded, socks are matched and the clothes are wrapped up nice and tidy like a present…
…all you've got to do is put them away.
Your Wash and Fold Laundry Experts
When you schedule your first pickup, we'll ask for your laundry preferences so that your laundry is done the way you like it.  We use premium scented or unscented soaps (your choice), fabric softener (or not!), and handle your clothing and washables gently to keep them looking their best.